In the spirit of
Oprah
, I thought I would put together a list of some of my favorite things that I loved while I was pregnant, and that I've loved since having Baby Henry. (Although unlike Oprah, I will not be giving any of these away to my audience!)
My favorite things during pregnancy:
Bra extender
OK, this isn't a very glamorous start to the list, but it's got to be, penny for penny, the best investment I made in clothing while pregnant! I got an extender for less than a dollar at Macy's (is it even possible to get anything else for less than a dollar at a department store?) and I used it constantly while pregnant and even after, while I was rapidly fluctuating between sizes. Lingerie department employees always seem to hate bra extenders, saying they mean your bra isn't really the right size--but really, when your size is changing every other day during pregnancy and after delivery, do you really want to invest in a new bra each week?
Bella band
This stretchy strip let me wear my pre-baby jeans a little bit longer. It's a great idea--and much like the bra extender, means you get a little extra use out of your pre-pregnancy clothing.
Ann Taylor Loft Maternity
Other than the bra-strap extender, my black maternity dress pants from Ann Taylor Loft were the best thing I bought. They were more expensive, yes--about $78, if I remember right--but I swear I wore them at least three times a week all during my pregnancy, and for way too long after! (I tried to find a link to the site, but it's down right now--poop.)
No- and Low-VOC paints
There are many brands to choose from now--it's important for a pregnant mom and baby, and really, for everyone pregnant or not. Offgassing stinks. (Haha.)
Z Recommends
Essential for checking out bottles, toys, pacifiers, anything you might register for, for BPA, phthalates, lead, and other toxicity issues.
Skin Deep: Cosmetics Database
I used Skin Deep before pregnancy, because I wanted to see what was in the products I was using, if the companies tested on animals, and what the safest products were. When I was pregnant, I researched for new shampoos, deodorants, makeup, skin care, and, of course, baby products with new zeal. I still refer to it all the time before buying a new product for Henry (or me).
My favorite things for baby:
Miracle Blanket swaddling wrap
This has been--and still is--indispensable for us. Henry busted out of every other swaddling blanket we tried--the "SwaddleMe," with its Velco, lasted all of about two minutes, even when he was a tiny newborn. We swaddled him with just receiving blankets ourselves (following
The Happiest Baby on the Block
's swaddling instructions) for his first month. Then I discovered the Rookie Moms' awesome
registry tips
, and they recommended the Miracle Blanket--and that's exactly what it is. Henry still loves to be swaddled in it at seven months old.
Angelcare motion monitor
My fellow Beetle Mom recommended this monitor to me while I was pregnant, but I thought I wouldn't need it. "Hey, it can't be good feng shui to have a movement pad underneath my baby, right?" Haha. You know what's not good for energy flow? Not being able to sleep because you're so anxious about your baby breathing. Thank goodness for this amazing bit of technology.
The sensor pad goes underneath the cradle/crib mattress, and is so sensitive, it detects the baby's movement (i.e., breathing). On our "deluxe" version, you can adjust the remote unit's settings so it only sounds if your baby makes noise at a certain level (so you don't have to hear static all the time). And I love the temperature reading (and setting so the alarm will sound if the temp drops or rises more than your settings).
We actually had Henry in our bed for the first several weeks, in the also excellent (and recommended by Beetle Mom) Snuggle Nest. I love the Snuggle Nest, too. When Henry started wiggling out of it, though, and we moved him to the cradle next to our bed, this monitor saved what was left of my sanity.
The first night using this monitor, I slept deeply enough that I had my first post-baby dreams. That's worth the price right there.
Snuggle Nest
I applaud cosleeping if it works for everyone involved--and by "works," I mean "everyone gets some rest." But when Henry was brand-new, I was too anxious to sleep next to him "loose." The Snuggle Nest saved me--he could be close to his parents, but I could rest easy knowing he was tucked in his own little "nest." (Thanks, Brooke!)
Spa Baby tub
I remember seeing this years ago online, and laughing at how funny it was. The babies were in buckets! But when the high-tech tub we registered for didn't fit in our kitchen sink, I traded technology for what is essentially a bucket...and my baby and I loved it! (Henry's even on the Spa Baby photo gallery page: http://www.spababytubs.com/gallery/)
In the Spa Baby bucket! I mean, tub.
Motherlove nipple cream
Again, it doesn't sound glamorous, but this is the best! For one thing, it checks out on the Cosmetics Database. For another, my lactation consultant (yes, Rebecca, it's a real job!), loved that I had this. And even after I gave up breastfeeding, I still use the cream on any skin rash Henry gets, and it works fabulously. I got mine at Whole Foods.
California Baby
skin and bath products
Again, great rating on the Cosmetics Database for most products--the Super Sensitive bath wash and lotion are great for brand-new skin. And no fragrance! (I know, the Burt's Bee's Baby Bee stuff smells sooo good--and I do use it sometimes because of that--but California Baby works better for Henry's skin.) And...even my local Target sells California Baby! Let's hear it for Target!
Ergo Carrier
The Baby Bjorn was good, until Henry doubled his birth weight. Then my back protested. And then I got the Ergo Carrier (from http://www.myfavoritebabycarrier.com/, because they offer a free trial period--very important!). I can't carry him for hours, but it certainly makes shopping a lot easier on me and my back! (The only drawback: Henry can't face outward, which he enjoyed in the Baby Bjorn. But he seems to like snuggling up to me and peeking, anyway.)
BabyLegs
I love Baby Legs! They're adorable, they're fun to coordinate with outfits, and they're practical: changing a diaper on a wriggly baby is much easier without the extra step of getting pants on and off. Plus, I'm planning on wearing the very soft, extra long organic Baby Legs on my arms after Henry's done with them! (One problem with those fuzzy organic Legs, though: they seem to shed fuzz everywhere. And I mean EVERYWHERE on a baby!) I get mine at http://www.mom4life.com/, a shop that only carries mom-created products.
Flame Baby Legs + Elvis jumpsuit
Seventh Generation wipes
I love Seventh Generation stuff in general, but even if you're not especially into them, these wipes are great because they're not too wet. Some we tried are just soaking wet and don't feel good to me.
Speesees
bibs
So, I like a lot of cute baby clothes and bibs (those are posts in and of themselves!). But I had to mention Speesees because they're so soft, they're so big, they're stylish (important, since Henry wears a bib constantly because of major teething drooling), and they work. Oh, and they have snaps at the back instead of Velcro, which scratches his poor little neck.
Combi play yard
Combi makes great-looking, sleek stuff, and I would love to recommend so many products, but some of them have had sound problems. Until I get them resolved, I'm just going to recommend the (silent) play yard. It's cool, but also totally portable, even coming with a tidy little bag that it really folds up in nicely. I don't mind walking through a hotel lobby carrying this thing.
Baby's favorite things:
Henry likes a lot of the above. (And for some reason, always wants to eat the California Baby creams.) He also likes many things that cost nothing, such as chewing on his own fingers and ours! But here are a few more things:
Fisher-Price Rainforest Jumperoo
I don't like for him to jump too long in this every day, because (like the Baby Bjorn, too), I'm a little worried about what the suspended seat might be doing to his boy parts. But man, he LOVES to jump in this toy! It's been his favorite thing to do for months. He also loves to chew on the weirdly floppy dragonfly toy, spin the gecko toy, and look at the flashing lights.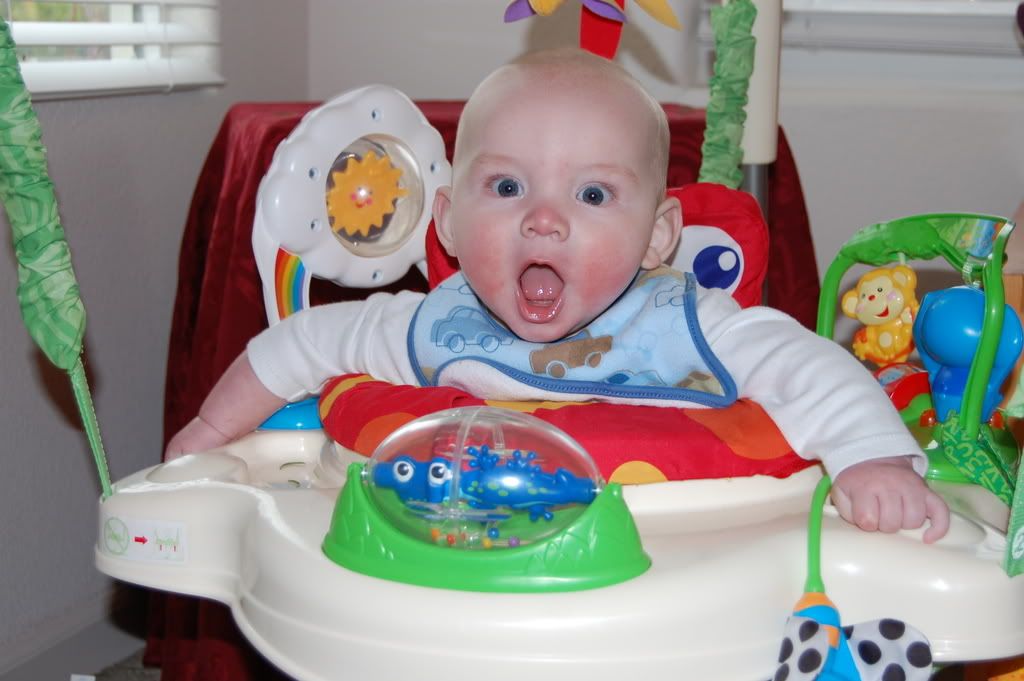 Enjoying the Jumperoo
Honestly, I was a little skeptical about this at first. In Elisha Cooper's charming, hilarious, and touching book,
Crawling: A Father's First Year
, he refers to some baby toys as being like Las Vegas and Atlantic City--all gaudy flashy things that don't go with his place's minimalist decor. But, like his kid, my baby LOVES this thing, and so I love it too and even like seeing it in my living room now. It's at the point where, on a recent visit to Target, I saw the "new" model of the Rainforest Jumperoo and exclaimed, "Ooh, the new one's out!" and rushed over to examine it. (Mostly the same as ours, but curvier and sleeker-looking.)
Peg Perego Primo Viaggio black-and-white dot carseat
Speaking of good-looking items, I like it, strangers like it, our doctor likes it, and, most importantly, Henry likes it! He still loves looking at and touching the white dots.
Good luck, expectant moms! And happy shopping. :)